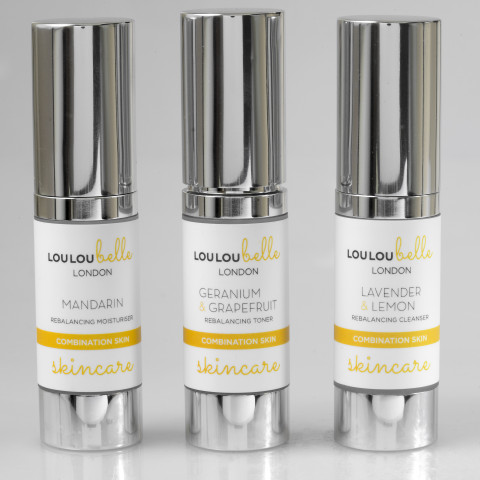 Worth A Try: LouLouBelle London Skincare
Since way back into my early teens (thank you Timehop for reminding me daily what an enormous dork I was back then) I have suffered with spots. And, despite my relatives/teachers/doctors promising me they'd disappear when I left my teenage years behind, I have since discovered this was absolute bullshit and to this very day, I still struggle with problematic skin.
Sure, I have a stressful job. And the chances of me getting the recommended eight hours of sleep each night are about the same as me winning the lottery. But I do my best to eat a clean and healthy diet, drink plenty of water and use products that are gentle and won't aggravate my sensitive skin.
During our high school years, my best friend and I spent more days than I can count trawling the pages of our favourite glamour magazines and reading reviews online – hell bent on discovering just one golden remedy that actually worked without a) scorching our skin and leaving it so dry it looked like sunburn peel or b) stripping us completely of our pocket money. We created natural face masks from honey and yoghurt (most of which wound up being eaten), covered our faces in toothpaste or Sudocrem before bed (this is just generally messy and most of it ends up in your hair anyway) and we even dedicated our Sundays to the gym – but only so we could spend hours in the sauna, hoping to steam our stubborn spots away for good. We raided our mums' dressing tables, but their expensive creams and moisturisers did nothing for our skin and nine times out of ten ended in a bollocking.
As an awkward and insecure teenager, my only hope was to hide my spots behind the £3 Rimmel foundation I'd buy from a stall in Liverpool's St. John's Market. And it's only now, as a grown woman who invests in quality makeup, I realise how much worse this made the problem. And that's before you consider the fact the foundation was actually two shades darker than my natural skin tone – the shame.
My spots today are nowhere near as bad as they were a decade ago. But still, one 'bad skin day' can leave me feeling pretty insecure, which I hate. So, when the lovely Magda from LouLouBelle Skincare emailed me, I was honestly thrilled. She explained she'd been a regular visitor to my blog and had read all about my battle with problematic skin – and god bless her, she wanted to help. After a quick chat, during which Magda assessed my skin type, she posted out some products that she swore would help me to achieve flawless skin.
The products arrived in a matter of days and I couldn't have been more grateful for their arrival – which ironically coincided with day two of my period, when my skin is famously at its absolute worst. The package consisted of a heavenly geranium and tea tree cleanser, lavender and cypress toner and a calendula moisturiser – all of which are packed with a variety of natural ingredients designed to cleanse, repair and protect the skin from its very base layer.
To best remedy my problem, each of the products Magda sent out to me were specially formulated with oily skin in mind – although the brand develop products to target virtually every skin type. Each product is created using specially selected essential oils, hand-picked plant essences and floral waters. More importantly, LouLouBelle prides itself on being completely cruelty free, which makes me even fonder of the brand. I was seriously impressed to learn that each one of their gorgeous products has been tested on willing friends, family or on Magda herself. They firmly refuse to test their products on animals, as well as saying no to bleaching agents, parabens, sulphates or artificial colourings or fragrances. How amazing is that?
It has been over a week since I first started using the products, and already I have high hopes. My skin feels refreshed, hydrated and as smooth as silk. My spots are yet to disappear completely, but I have faith in this brand. The passion, dedication and essential knowledge that goes into creating each and every one of their products makes it difficult not to.
I'll be posting about my progress using LouLouBelle again soon, but until then, I'd love to hear all about your battles with problematic skin. Is there a particular product you swear by for flawless skin? Let me know in the comments!
Until next time…