Blogging is so en vogue right now.
Seriously, everyone's at it. And I think it's great.
There was a time when I felt I didn't measure up to the blogging community. Don't get me wrong, I met some incredible people as a result of my blog. But I also met some absolute bitches who made me feel totally inadequate because I wasn't blogging seven days a week and attending every bloggers' social event on the calendar. Those girls were seriously dedicated, which is amazing. But they made me feel like a lousy blogger because I wasn't quite so dedicated. I'd have loved to blog full time, but it just wasn't realistic (since I already wrote for a living) and before long, I pretty much gave up on it altogether.
But in the two years between me calling it quits and seeing sense, I missed my lovely little blog irrevocably. I just couldn't stay away.
For me, blogging was so much more than a place to share my quirky little guides to life – aka, me pretending to have my shit together in order to help other young girls and sometimes guys navigate everyday life. And it was even more than me sharing my thoughts on everything from the effects of fairytales and pornography on today's kids to my battle with problematic skin. It was a release, a way of putting my innermost thoughts and feelings out there. On some occasions, I had the pleasure of interacting with people who'd read my blog and felt exactly the same way that I did. I honestly believe we have a lot to thank the blogging world – and the wider media – for. From the comfort of their own homes, people can open up about their thoughts, feelings, experiences and struggles without fear of judgement. Hell, they don't even need to identify themselves – and they can do it all whilst wearing their pyjamas. Just imagine the incredible things that ability does for those suffering with anxiety, depression and other mental illnesses. It means people can be heard without having to leave the house, or put on a false smile. It's absolutely bloody amazing.
For some people, blogging is all about sharing their amazing makeup tutorials. For others, it's a way of showcasing poetry or guides to everyday life. And for some, it's their livelihood. Whatever your reason for starting a blog of your own, it's an exciting step and i'm all for it. But, if like me circa 2014 you have absolutely no idea where to start then fear not – I have your back! Here are a couple of handy steps to help you make your own fabulous corner of the internet and enter the blogging world all guns blazing.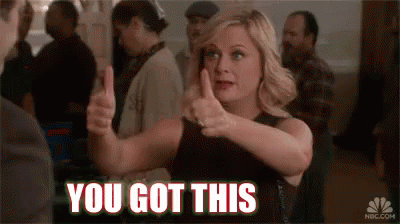 Decide on your blogging platform and domain
This is not only the first step in the process, but one of the most significant. In my experience, I have found that selecting a platform you feel entirely comfortable using is imperative. If you opt for a more complex platform, you may find yourself a little out of your comfort zone, which will inevitably leave you on the brink of throwing in the towel screaming: "Blogging is fucking cancelled!" Yes, this was me four years ago. Blogger (also known as Blogspot) and WordPress are magnificent platforms. It takes just a couple of clicks to establish a domain which is surprisingly easy to manage, straightforward to customise (with immediate, responsive results) and operates with practically fool proof coding, which is handy when you have absolutely no idea what you're doing.
(Please, always copy your HTML onto a separate document before fiddling with it. If you muck it up, you can always replace it with the original. Please god learn from my mistakes!)
Deciding on and committing to a domain name is something that requires a lot of thought – a lot more than you put into your email address in 2006. Please do not call your blog princesslucy2k6.wordpress.com. In my personal experience, it's best to choose a name that means something to you sentimentally – so you're unlikely to tire of it. If you're going to be blogging professionally, make sure you choose a name that strikes guests to your blog as professional. My late Grandma and Nana always called me Lucy Locket as a toddler, and my partner of eight years has called me Lou since the day we met, and thus I mashed the two and my blog was born. Whenever I blog, I feel a little piece of those important people right there with me. Did you cringe at that little ball of cheese too? Smashing.
Define your niche
This can be tricky if you're starting a blog on a whim – but just go with it. If you're blogging as part of a business, then it pays to know your readers. Think about who you'd most like to read your posts and fashion them accordingly. Having a clear vision of who you would like to read your posts will help you to produce content that is focused, thematic and more relevant to your readers – and it means they're more likely to return to your blog. However, it's important to remember that you're first and foremost blogging for you, so write from the heart and a dedicated following will soon emerge.
Be prepared to use social media
Social media is your blog's best friend. When used correctly, it can be a tremendously effective way of promoting your work and interacting with likeminded people. There are a number of pages dedicated to different kinds of blogs, each of which can be used to yours and your blog's advantage. For example, if you're a beauty blogger, @BBloggersChat will share your work amongst their 20.3k followers, targeting people that are genuinely interested in reading what you have written about shared passions. Such pages host weekly chats such as @Cbeechat, during which time you can communicate with likeminded people, share in your wisdom and discover new tricks and treats for your own blog.
Be honest, passionate and true to you
Your blog should be a reflection of you, not a reflection of somebody else. It really is true what they say – an original is worth way more than a copy. Nobody is interested in reading your blog if you've ripped off another, well-known blogger's content. People will see straight through it and you'll lose whatever credibility you'd falsely earned for yourself. If you're not passionate about your blog, then you really shouldn't have one. A blog should be as original as you are, something that brings you joy, sanctuary and inspiration. If you're honest, your readers can truly engage with not just your content but with you as an individual.
…And on that note, never compare your own blog to similar blogs. Originality goes a very long way!
If you compare your blog to another blog, you will always end up feeling pretty rubbish and downhearted. There are millions of blogs out there, many of which will be similar to yours. But what makes your blog unique is you! Be yourself, write about your own experiences, share your secrets, have a striped background, upload your baby pictures, by all means. But please, don't do this simply to keep up with somebody else's blog. Be original. Your quirks are the defining factors that will make visitors to your site stop, read, laugh and hit bookmark! Embrace your weirdness and remember, the path to perfection only ever leads to destruction.
Don't write for the sake of it, to gain traffic or to keep up with other bloggers!
Occasionally, I open up WordPress, hit "new post" and almost upon cue my mind goes blank. The most important thing to remember when this happens – and trust me, it will happen – is not to force your writing. Forced writing never works, and is never as enjoyable as letting your words flow. You should never write simply to bring viewers to your blog; whilst new visitors are nice, your content is more important and influential in the success of your blog. When you feel ready to write, let the words flow. But never feel that you must write every single day simply to compete or to keep up! Post when it feels natural and you'll be fine.
Stay humble, have patience and don't expect overnight success
When I first clicked onto my blog stats and saw that i'd had 10 visitors to my website (after one week of blogging), I felt a wave of pure delight before disappointment slapped me in the face. Having written a couple of really interesting posts, or so I believed, I hoped to have attracted more people. However, I was still utterly delighted that 10 people had visited my page. I didn't think 10 people would care, so I was pretty chuffed. It's always important to remember that your stats are by no means an indicator that your blog is any better or any less wonderful than the blogs you've had bookmarked for the last five years. Success is a slow process for many; bloggers with 30k followers have probably been blogging for at least a couple of years, working social media like a puppet and plugging their work incessantly. Never beat yourself up simply because your followers don't match up! Have faith in your writing, believe in your personality and your time will come. And even if it doesn't, if you're enjoying your blog then keep blogging.
Seek inspiration from the smallest things
Sometimes, writer's block happens when we reaaaaaally want to post, and knowing what to write about can be tricky, particularly if you haven't yet decided on the niche of your blog. I find that a leisurely stroll around the park with my dogs, listening to my favourite music, speaking to my friends and even speaking to total strangers can inspire me to create features and columns for both the women's magazines I write for and my own blog. Another way of sourcing inspiration can be to glance over your existing blog posts and consider things you've missed, things you've always wanted to discuss but never had the time or simply those things you would love to discuss again. Repetition is fine, as long as you're bringing something new to your post, your blog, yourself and your readers. Inspiration is a beautiful thing, and from time to time, hits you when you least expect it. But sometimes, you have to throw on your muddy wellies, button up your trench coat and embark on a wonderful adventure to pursue it.
Have my tips inspired you to start a blog of your own?
Follow me on Twitter @varleylou.